FRENCH COURSES FOR ADULTS  | JOIN THE CHAMPIONS, SPEAK FRENCH!
STANDARD COURSES – 48 HOURS
(autumn / winter / spring terms)
Our standard courses take place all year long  in 48-hours sessions, except for summer. We give students the opportunity to improve thoroughly in all the aspects of French, focusing on speaking skills as well as on grammar, vocabulary, listening and writing skills.
Our French native teachers use an immersive methodology: since you enter the classroom, every single word you will hear will be a French one!
Classes generally take place in the evening time. We also offer morning classes.
Joining our courses offers you lots of advantages (special events, free access to the French Institute's library…), discover them below.
Our next term will start after the holidays, by end of October.
Keep calm and eat some cheese! 
AUTUMN TERM SCHEDULE:
Level

Advancement
(in the level)

Day·s of class

Dates

Class time

A1
Beginner
A1.1
Sunday (morning)

3 places remain

November, 3rd to February, 9th
9am – 12am

Sunday (evening)

Full

October, 27th to February, 9th
6pm – 9pm

A1.2
Sunday (evening)
October, 27th to February, 9th
6pm – 9pm
A2
Elementary

A2.1
Monday (evening)

1 place remains

October, 28th to February, 10th
6pm – 9pm
A2.2
Wednesday (evening)
October, 30th to February, 12th
6pm – 9pm
B1
Intermediate

B1.1

Monday (morning)

2 places remain

October, 28th to February, 10th
9am – 12am
B1.3
Tuesday (evening)

4 places remain

November, 5th to February, 11th
6pm – 9pm
B2
Fluent

B2.1

Opening on demand
October, to February
on demand
B2.2
Monday (morning)
October, 28th to February, 10th
9:30 am – 12:30 am
C1
Expert

C1.1
Opening on demand
October, to February
on demand
C1.2
Sunday (evening)
October, 30th to February, 12th
6pm – 9pm
C2
Mastery

C2

Opening on demand
(or see our special courses below)

October, to February
on demand
SPECIAL COURSES – 16 HOURS
One theme / one 16 hours – trip into French langage

From level A2, you can enjoy our program of special courses:
Once a week over 8 weeks (2-hour classes), learn French through art, history, or even cooking classes! Every 2 month, meet a new subject, and a new teacher.
PROGRAM: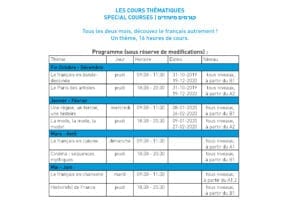 FEES & DISCOUNT  :
STANDARD COURSE – 48HOURS:
Price: 2100 ILS / 1930 ILS for registration before 27/09/19
If you were student in our last winter and/or spring term, you have a special discount – final price: 1760 ILS

SPECIAL COURSES –   2 HOURS A WEEK OVER 8 WEEKS (16 HOURS)
Price: 800 ILS

We do not accept credit card.  Payment in check (maximum 2 checks) or cash.
Attention! Please note that you will have to buy your own class books which are not included in the fees : we host a multimedia library, but no bookshop! Our partner, the French bookshop Vice Versa, can order your books.

YOU ARE MUCH MORE THAN A STUDENT!
Being a student at the French Institute in Jerusalem – Romain Gary, means joining our community, and becoming a member of our Institute!
Each student benefits from:
* a free access  to the Institute's mutimedia library: you can of course borrow grammar or exercices books, but also enjoy French movies with Hebrew or English subtitles, French novels of the most famous authors translated into Hebrew, or even try to read your first books in French…
*special events designed for (and by) the students: the 4th wednesday of each month, enjoy from our Romain Gary's Ciné-club and choose the next movie to be screen yourself! (>more info)
and participate to our  "Lundi, c'est ravioli Partys" : once a month, a special event for you to practice your last French words : boards games events ; dancing parties ; meetings with French creators ;  French dinners… (> more info to come)
*free access or special prices to all the Institute's cultural events.  >Check the calendar!
* tickets for French movies, in partnership with the Jerusalem's Cinematheque – Film Archive.
Four times a year, the French Institute, in collaboration with the Cinematheque, organize a Cine-Premiere Event: we welcome a French director/actor/actress and screen a French movie that has never been screened in the region before. Then, the artist come to the classes, for a special talks with you!  (> more info)
CONTACT US
For any request or question, please get in touch!
ifj-romaingary@consulfrance-jerusalem.org 
02.6243156 #1  / 02.6255831
________________________
OUR SUMMER COURSES 
 INTENSIVE COURSES
a jump into French.
Join the champions, speak French! 
Every summer we offer  intensive courses for beginners (A1.1 and A1.2).
Our teachers will introduce the students to both French culture and langage, and make them develop new langage skills
Next intensive summer session in 2020!
 CONVERSATION WORKSHOP:
French up your summer!
Students from levels A2 and more are welcome to our weekly Conversation workshop: once a week, a meeting to speak French and practice what you studied and learned during the year, before the autumn term starts!
For more information, write us ! ifj-romaingary@consulfrance-jerusalem.org